REGISTRATION
---

Participants
Early
Before 30 May, 2014
Late
1 June - 30 August, 2014
Onsite
1 September -
17 September, 2014
Regular*
300 Euro
350 Euro
400 Euro
Student**
100 Euro
125 Euro
150 Euro
Accompanying Person
200 Euro
200 Euro
200 Euro
* For the participants from the same laboratory there is special discount:
• the second participant of the same laboratory receives a 25% discount,
• the third and each subsequent participant receives a 35% discount.
**Limited 10% of all participants. Applicants for student category are required to submit proof of student status (e.g.,a copy of university ID card).
Registration fee entitles all delegates to the following:
Full attendance to all conference sessions and exhibition area
All official documents like conference program and abstract book, certificate of attendance, name badge etc.
Opening Ceremony
Coffee Breaks
Delegate Bag
Social Events
Banquet
Deadline of online registration: June 15, 2014.
Abstract submitting
Abstracts should be prepared according to abstract preparation rules (download template) and
send to Dr. Maia Merlani: maiamer@hotmail.com
Deadline of abstract submitting: August 15 , 2014.
Cancellation Policy for Registration

Registration payments will be refunded as 50% of the payment if a written cancellation is received by organizing committee before 15 September, 2014.
Please note that there will be no refund for cancellations received after September 15, 2014.

All participants will receive a final confirmation letter upon their registrations. Please keep your final confirmation letter with you in order to show during the registration if it will be asked.

To receive a final confirmation please be sure that your proof of payment is received by organizing committee.

The applications made via e-mail or only by bank receipt alone will not be confirmed and will be placed on a waiting list. To confirm your reservation both documents must be received.
Invited Lectures
See Also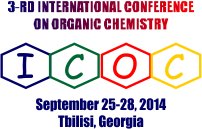 ORGANISERS & SPONSORS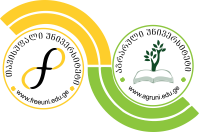 Agricultural University of Georgia

Association of Professional Chemists
of Georgia