Program
---
Scientific program
September, 20-th
September, 21-th
September, 22-th
September, 23-th
September, 24-th

Arrival & Registration
9.30-11.30
Oral Session 1
9.30-11.30
Oral Session 5
9.30-11.30
Oral Session 9
11.30-11.50
Coffee Break
11.30-11.50
Coffee Break
11.30-11.50
Coffee Break
11.50-12.50
Oral Session 2
11.50-12.50
Oral Session 6
11.50-12.55
Oral Session 10
18.00
Opening Ceremony

Welcome Party
12.50-13.50
Lunch
12.50-13.50
Lunch
12.55-13.55
Lunch
13.50-15.50
Oral Session 3
13.50-15.50
Oral Session 7
13.55-15.30
Oral Session 11
15.50-16.10
Coffee Break
15.50-16.10
Coffee Break
15.30-16.00
Coffee Break
16.00-17.30
Poster Session
16.10-17.00
Oral Session 4
16.10-17.00
Oral Session 8
17.30-18.30
Closing Ceremony
17.30-20.00
Visit to museum
17.30-20.00
City Tour
18.30-19.00
Free Time
Departure
19.00-19.20 Transfer to Restaurant
19.00-
Conference banquet
For detail program click here...
Social Programs
21 September, 2014
The Simon Janashia Museum of Georgia formerly known as the State Museum of History of Georgia, is one of the main history museums in Tbilisi, Georgia, which displays the country's principal archaeological findings.
Dmanisi`s Hominid – First Europeans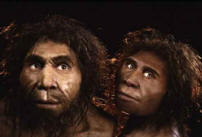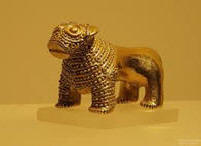 The recently discovered Dmanisi hominid in the foothills of the lesser Caucasus provides a remarkable 1.8 million year old link with humankind`s first transition from Africa to Europe. It is no surprise to find numerous Stone Age settlements and archaeological sites spread through the Georgian Heartland. Recent excavations of Dmanisi have revealed an extraordinary record of the earliest hominid dispersal beyond Africa. Several hominid individuals (4skulls, 3 of them with maxillas, 4 mandibles, 16 isolated teeth and 24 post-cranial elements), along with abundant well-preserved remains of fossil animals and stone artifacts have been found. In 2003-04 field season another new hominid mandible, with fascinating pathologies having implications for the evolution of human disease and also social behavior has been discovered. This is the richest and most complete collection of indisputable early Homo remains outside of Africa with good stratigraphic context, now well dated to about 1.75 million years ago. Skulls found in the Dmanisi region of Georgia and thoroughly studied in France prove that the first Europeans came from this territory around 1.75 million years ago. This fact is accepted and acknowledged by scholars and scientists all over the world. After this discovery it is without any doubt that Georgia is a motherland of the first European.
22 September, 2014
Mtsketa – Town-museum. The ancient capital of Georgia. Known as "Hole Place", is considered as the second" Jerusalem". Situated on a plains to the confluence of the Mtkvari and Aragvi rivers, the ancient trade silk route run here;
Jvari - (6th c).Located on the top of the hill it provides an amazing view of the conjunction of two rivers. UNESCO World Heritage site;
Svetitskhoveli Cathedral - (11th c). - The biggest Christian temple in Georgia. A sacred place, where the Christ's robe is kept . UNESCO World Heritage site;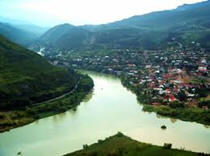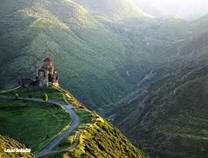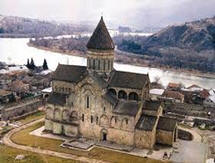 23 September, 2014
Dinner in a traditional Georgian restaurant with folk songs and traditional dance;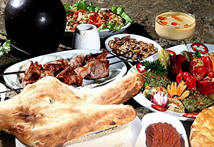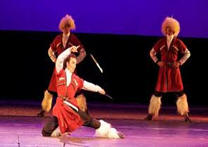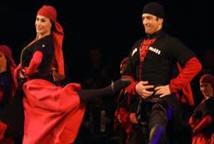 24 September, 2014
Ananuri Fortress ( 13th c) situated on the Georgian Military Highway A picturesque view of on the shore of the azure blue Zhinvali reservoir. Ananuri was a castle and the seat of the (Dukes) of Aragvi, a feudal dynasty. The castle was the scene of numerous battles.
Kazbegi -- (146 km from Tbilisi ) – a small town nestled among the Great Caucasus Mountains (5047m). According to the legend Prometheus was chained on the mount Kazbek Arriving in Tbilisi
Lumch in Kazbegi the delicious local mountain cuisine;
Gergeti Trinity Church (14th c) located on an elevation of 2170 meters on Gergeti mountain. From here you have a chance to see the beauties view of the mountains and glaciers. Kazbegi (5033m) – one of the highest glaciers in the Caucasus;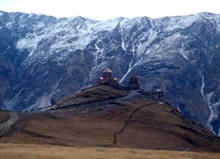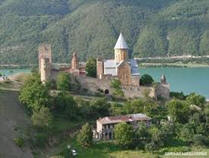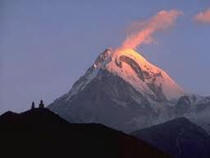 Additional offering to conference participants from our partner Parsa Tour.
2 Day Tour | 3 Day Tour | 7 Day Tour
Invited Lectures
See Also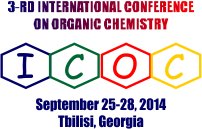 ORGANISERS & SPONSORS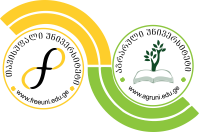 Agricultural University of Georgia

Association of Professional Chemists
of Georgia