FOR VISITORS
---
MEETING DATES
September 20 (Saturday) – 24 (Wednesday), 2014
MEETING VENUE
The Meeting will take place at Agraricultural University of Georgia.

MEETING LANGUAGE
Meeting language is English and all presentations during the meeting will be conducted in English.
ABSTRACT SUBMITTING
Please direct all questions regarding rules and guidelines to the Organizing Secretariat via e-mail to maiamer@hotmail.com
ORAL PRESENTATION

Oral presentations are allotted twenty minutes for presentation. All oral presentations must be delivered using PowerPoint.

POSTER PRESENTATION
Posters have to be A1 size.
The posters should be prepared in a font size that can be read from one meter distance.
Please take consideration that you are kindly requested; to put up your poster on September 23 16:00 and to take up at the end of the scientific program September 23 17:30.
All oral and poster presenters must register and pay the EAMHC 2014 meeting registration fee.


LETTER OF INVITATION
On request, the Conference Secretariat will be pleased to send letters of invitation to individual scientists. Invitations of this kind are intended to assist potential delegates to raise their travel funds or obtain visas. Registration is required.
They do not imply any commitment or responsibility on behalf of the Meeting to provide financial support.
PASSPORT & VISA
The countries whose citizens do not need a visa to enter and stay on the territory of Georgia for 360 days: All countries of the European Union, United States of America, Canada, Japan, Switzerland, Lichtenstein, Norway, Israel , the Holy See , Principality of Andorra, San-Marino, Republic of Iceland, United Arab Emirates, State of Kuwait, South Korea, State of Qatar, Kingdom of Bahrain, Oman, Brunei, Singapore, Australia, Monaco, New Zealand, Barbados, Antigua and Barbuda, Trinidad and Tobago, Seychelles, Botswana, Croatia, Chile, Saint Kitts and Nevis, Argentina, Malaysia, Mexico, Uruguay, Mauritius, Panama, Costa Rica, South Africa, Brazil, Thailand, Belize, Saudi Arabia, Republic of Albania, Republic of Serbia, Bosnia and Herzegovina, Montenegro, Republic of Iraq. All foreign visitors (except the countries listed below) must possess a passport valid for at least the next 6 months. Some participants may require visas in order to enter Georgia. Please check with your local Georgian Consulate or Embassy for details regarding visa and entry requirements. If no such representation exists in a particular country, please visit the site: http://www.mfa.gov.ge.
NAME BADGES
You will receive a personalized badge when collecting your registration documents. During the Meeting, this badge must be clearly visible at all times and grants access to the Scientific Sessions and official Social Events.
TRAVEL INFORMATION
The fastest and consequently the least tiring way to get to Georgia is by plane. For flying information visit the link.
AIRPORT TAXI
Airport Taxies are located at the curbside of arrival and departure halls provide transportation service to all parts of the city throughout the day. Price from airport to city center 30GEL = 20US$ Contact phone: +995 32 278 78 78
CERTIFICATE OF ATTENDANCE
All the participants who attended the meeting will get their certificates of attendance.
LIABILITY
Please notice that the meeting registration fee does not include insurance. All participants should arrange for their own insurance. Health and accident insurance is strongly recommended and will need to be purchased in the country of origin.
SPEAKERS' READY ROOM
Only digital presentations will be accepted during the meeting and all presentations should be handed in at the Speakers' Ready Room at least two hours prior to the start of the session.
CLIMATE AND CLOTHING
At the September daytime temperatures are in the range of 18-28 Celsius.
We recommend you bring light clothes, sweater and a jacket for cooler evenings.
CURRENCY
The Georgian currency is Georgian Lari. The exchange rate for Georgian Lari as of January 2014 is; EUR 1= GEL 2.21.
BANKING AND EXCHANGE FACILITIES
Foreign money can be changed at banks during normal business days (09.00-17.00 Monday-Fridays) as well as at hotels, at the airport and in exchange offices. All major credit cards are accepted in hotels, restaurants and shops. Automated bank machines are available at many points throughout the city and at the airport.
GEORGIAN CUISINE
Georgian cuisine refers to the cooking styles and dishes with origins in the nation of Georgia and prepared by Georgian people around the world. The Georgian cuisine is specific to the country, but also contains some influences from the Middle Eastern and European culinary traditions. The cuisine offers a variety of dishes with various herbs and spices. Each historical province of Georgia has its own distinct culinary tradition, such as Megrelian, Kakhetian, and Imeretian cuisines. In addition to various meat dishes, Georgian cuisine also offers a variety of vegetarian meals. The importance of both food and drink to Georgian culture is best observed during a feast, or supra, when a huge assortment of dishes is prepared, always accompanied by large amounts of wine, and dinner can last for hours. In a Georgian feast, the role of the tamada (toastmaster) is an important and honored position. See more in guide to Georgia.

TIPPING
Although service charge is included in most restaurants, leaving a tip at one's own discretion is appreciated.
LOCAL TIME
Tbilisi time zone: UTC/GMT +4.
Time zone abbreviation: GET - Georgia Standard Time.
No daylight saving time at the moment.
ELECTRICITY
Georgia has 220 volts/50 Hz. electricity and socket type is European standard. (2-pin plug). British and USA appliances need an adaptor.
TRANSFERS
For your transfer requests please fill in the Online Reservation Form which will be available prior to meeting. Conference organizing committee will provide airport transfer service during mentioned days. There will be two types of transfer;
- Shuttle transfer: The scheduled shuttle transfers will be run during mentioned dates between airport and meeting venue. Schedule can be seen at the related part of the online reservation form.
- Private Transfer: Private transfers will be provided upon request according to the delegates needs. Please choose the private transfer section at the related part of the online reservation form. The transfer team will then get in contact with you shortly.
CONTACT
For any additional information regarding the meeting, please contact  organizing committee at elizbarashvili@gtu.ge or maiamer@hotmail.com
Invited Lectures
See Also
ORGANISERS & SPONSORS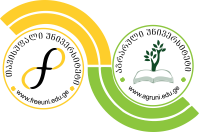 Agricultural University of Georgia

Association of Professional Chemists
of Georgia