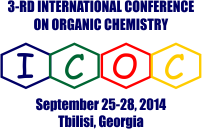 INVITED LECTURES
Call For Abstracts
Registration deadline
Registration is possible till June 30, 2014.
Abstract submitting
Abstracts should be prepared according to abstract preparation rules (download template) and
send to Prof. Elizbar Elizbarashvili: elizbarashvili@gtu.ge
Abstract length is limited up to 2 pages size A4.
Deadline of abstract submitting: August 15, 2014.
Registration Fee
The following table summarizes the requested fees.
Participants
Early
Before 30 June, 2014
Late
1 July - 30 August, 2014
Onsite
1 September -
17 September, 2014
Regular*
250 Euro
350 Euro
400 Euro
Student**
100 Euro
125 Euro
150 Euro
Accompanying Person
200 Euro
200 Euro
200 Euro
Fee*
Admission to the scientific events
Copy of proceedings
Reception meeting
Coffee breaks, Lunch
Social Events
Banquet
Accommodation
Regular Participant

250 EUR
Yes
Yes
Yes
Yes
Yes
Yes
No
PhD Students &
Post-Docs
100 EUR
Yes
Yes
Yes
Yes
Yes
Yes
No
For exchange rate see

Cancellation Policy for Registration
Registration payments will be refunded as 50% of the payment if a written cancellation is received by organizing committee before 15 September, 2014.
Please note that there will be no refund for cancellations received after September 15, 2014.
All participants will receive a final confirmation letter upon their registrations. Please keep your final confirmation letter with you in order to show during the registration if it will be asked.
To receive a final confirmation please be sure that your proof of payment is received by organizing committee.
The applications made via e-mail or only by bank receipt alone will not be confirmed and will be placed on a waiting list. To confirm your reservation both documents must be received.